In 2020, it seems like there is an acronym for everything in the marketing and advertising industry. From OTT to CPC to KPI, it can sometimes can get confusing. Hopefully by the end of this article, you can add two more to your dictionary and they are DSP and SSP.
Let's Start with Demand Side Platform (DSP):
According to ToolBox Marketing, "a demand side platform (DSP) is defined as an adtech software application that enables brands, advertisers, and agencies to programmatically buy ads from marketplaces such as ad networks or supply-side platforms." A DSP can help your business navigate the digital marketing landscape like for OTT advertising. By utilizing a DSP, you will have more control over your campaigns. Typically, demand side platform provides can optimize your advertisements, track data and analytics, and assist with the bidding process. Overall, DSPs make navigating media buying much easier.
Next up, Supply Side Platform (SSP):
Going back to ToolBox Marketing, "a supply-side platform (also known as a sell-side platform) is a type of advertising technology (adtech) that helps publishers optimize their ad inventory." Similar to a DSP, a SSP can help provide more control over your campaigns, just in different ways. A supply side platform allows for publishers to expand their reach, limit the number of people seeing the same ads multiple times, and ensuring that ad spaces are filled.
DSP vs SSP
As you have probably picked up on by now, it is not necessarily this versus that. Both of these types of platforms come together to really enhance the digital advertising landscape. These platforms are the key to what is called programatic advertising. Through programmatic advertising, the process of bidding on ads and managing ad inventories has never been easier.
Some companies are able to combine both demand side and supply side platforms into one platform. JamLoop which is a platform for advertising on streaming TV, OTT, CTV, and digital video is primarily a demand side platform but also has some direct publishers. This means that they have incorporated some features of a SSP into their DSP. This ensures actionable transparencies and pricing efficiencies for agencies and businesses.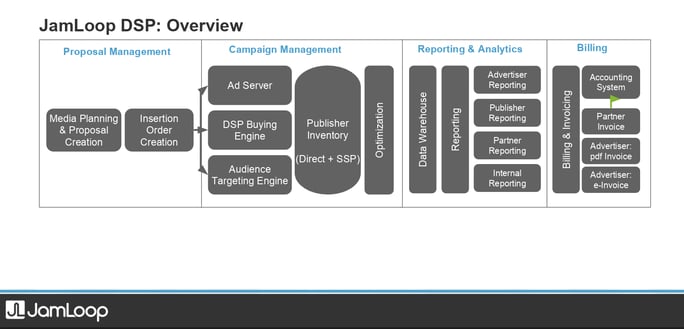 It is important to continue to understand and learn about the current trends in marketing and advertising in order to make sure you can reach your audience. Before deciding on your DSP or SSP provider, make sure you are asking the right questions. Find the provider that aligns and can support your advertising needs. In a future post, we will outline some of these important questions and the answers you should look for.